Kenwood TS-870 ACC2 Audio Input - C131 Capacitor Modification:

Source courtesy of LB5VA - Original mod by W9AC


It has been documented by several Kenwood TS-870 owners that feeding audio to the ACC2 rear input, instead of the front panel mic input, results in lower distortion audio. This is because some of the speech amplifier circuits are effectively bypassed that are the source of the distortion, especially in the high frequency area above 2kHz.
However, because the ACC2 audio input of the Kenwood TS-870 was designed for data audio (such as that from a TNC using the digital modes), the audio characteristics of the ACC2 audio input are attenuated below about 200Hz.
The following modification addresses this issue by changing the value of the C131 capacitor that the ACC2 audio input travels through, allowing low frequency audio to freely pass through the circuit.
C131 IN THE SCEMATICS: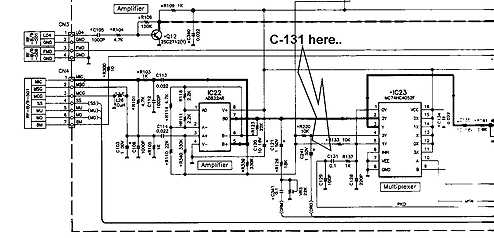 Click to enlarge
---
C131 Modification Procedure:
REMOVE METAL SHIELD FROM PCB

Click to enlarge
REMOVE ALL THE WIRES AND RIBBON-CABLES AND SCREWS FROM PCB
Look for IC-23 - Capacitor C131 is under the PCB in that area.


LOCATE THE CAPASITOR ON THE BACKSIDE
C131 is on the solder side of the PCB. With a beeping ohm-meter, find the connection from pin 5 on IC-23 to the R137 (1K) witch is under the PCB, to the left of C131 on the picture.

Click to enlarge
SOLDER THE NEW CAPACITOR WITH "PIGGY-BACK" METHOD
(DO NOT remove the original C131)

Use a mini 4.7uF/35V from ELFA (67-195-20). This fits nice under the PCB. The positive lead to the direction of IC-23 and the minus lead toward the front, like seen on the picture.
IMPORTANT PTT NOTICE:
When feeding your rack audio in to the ACC2 jack (pin 11 Audio plus, Pin 12 Audio Shield), you MUST also key the radio from the ACC2 jack (PTT Pin 9, PTT Ground Pin 8) or the audio will not pass. Audio fed into the ACC2 input will NOT pass if you use any PTT method other than the ACC2 PTT pins.

This completes the modification. Have fun!